Is the Mozartkugel Austrian or German?
The Mozartkugel orginiated in Salzburg (Austria), conceived by confectioner Paul Fuerst as the Original Mozart Bonbon in the early 1890s, about 100 years after the death of the famous composer in the same city.
The Mozartkugel is a delicious spherical praline consisting of a pistachio marzipan core, hazelnut-cream "nougat" filling and enrobed in dark chocolate. It quickly gained popularity, first in Austria and Southern Germany, then around the world. In 1905, at the Paris World Fair, Fuerst received a gold medal for his culinary creation
It didn't take long that other "Meister Konditoren" (master confectioners) in Salzburg would compose their own version of this delicious sweet treat, with more or less nougat/praline filling or with the addition or almond marzipan at the center. Today, Konditorei Schatz, Confiserie Holzermayr in Salzburg, as well as Konditorei Dallmann in nearby St. Gilgen offer hand-made Mozartkugeln based on original recipes. At Konditorei Dallmann, you can learn in seminars how to make your own Mozartkugel.
Austrian and German brands
The Mozartkugel was destined to reach larger audiences around the world. Small, family-owned praline manufacturers in Austria and Germany launched their own Mozartkugel creations.Some of these manufacturers became internationally recognized brands. Notable are Austrian producers Heindl in Vienna, Mirabell (which belongs to US giant Mondelez), and Hofbauer (which today belongs to Swiss multinational Lindt & Spruengli). In Germany, the Cafe Reber, located in Bad Reichenhall close to Salzburg, became the world's largest and most widely recognized Mozartkugel brand – pone of the reasons why many Mozartkugel lovers associate the sweet with German origin. Other renowned manufacturers are Confisserie Dreher, in Munich (which merged with Germany's oldest chocolate maker Halloren in 2000), and Lambertz.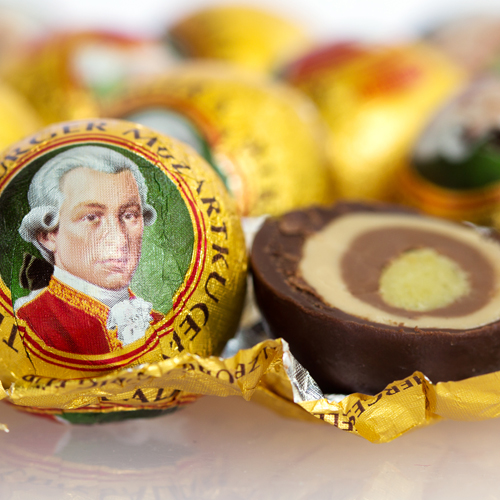 International Copyright Battles
To the chagrin of his descendants, Paul Fürst did not copyright the name Mozartkugel. It remains a generic term for a pistachio, nougat chocolate praline and can be used by any confectioner around the world. An attempt in the 1980s by the Austrian government to protect the name Mozartkugel as a purely Austrian-made specialty failed in the light of EU legislation.However, the Fürst family eventually won at the European Court of Justice the rights to the name and design of the "Original Salzburg Mozart Kugel."
Reber's Assortment
Reber's Mozartkugeln – made with a hazelnut nougat core, surrounded by green pistachio and almond marzipan and covered in dark chocolate -are the world's best-selling Mozart pralines with a daily production of 500,000 Kugel.It takes about 45 minutes from getting the ingredients ready to wrapping the finished ball into the foil to produce one Reber ball. Reber's complete Mozart assortment includes heart-shaped marzipan pralines, dark and milk chocolate truffles, Black Forest cherry pralines, Mozartkugel in tins, piano-shaped and violin-shaped cases. You can find the complete US assortment in our store. Some products are only available between October and December. Both Reber's Genuine Mozart Kugel (dark chocolate, 60% cocoa) and Constanze Mozart Kugel (milk chocolate, 33% cocoa) are certified kosher dairy (not Passover). Other Reber creations include Asbach Riesling brandy and Schladerer fruit brandy filled pralines.

Inspiration to Enjoy the Mozartkugel
January is a great time to indulge in a Kugel or two. It's the birth month of the great composer. Forget after-holiday diet resolutions and and listen to one of Mozart's symphonies, along with a cup of tea and the kugel. Tired of the Kleine Nachtmusik? Try Franz Schubert, Elvis Pressley or listen to Nick Mason, the drummer of Pink Floyd. All are January's children. More to explore at
https://germanfoods.org/german-food-facts/a-sweet-moment-with-amadeus-franz-elvis/