5 Ideas To Make Your Own Gummy Candies
Did you ever wonder how gummy bears are made? Actually, it's quite simple. You need a special fructose-glucose mix, fruit juice flavor, gelatin, a little color and a gummy bear mold. If you don't have these ingredients handy, you can either buy them in a bag … or use the Mr. Candy Baker "Make Your Own Gummy Bear" candy making kit.
Mr. Candy Baker is the brain child of Alexandra Bisaz, a Swiss sweets entrepreneur, innovator and proprietor of the Swiss "Lolipop" candy stores. The "Make Your Own Gummy Candy" range is produced in Germany, the birthplace of gummy bears. Each kit contains a base-mix made of different sugars, gelatin, lemon, apple, and strawberry flavors, and a reusable silicone mold.
The gummies are easy to make: simply dissolve the base mix in ¼ cup of hot (not boiling) water, stir, pour the syrup into the mold, freeze or cool, and enjoy. The mix is not too sweet, all flavors and colors are natural, except one of the color components.
"Make Your Own Gummy Bears" is just one of nine products in the Mr. Candy Baker range. Other products make gummy unicorns, dinosaurs, mermaids; reindeer, Santa and gingerbread men for Xmas; and skulls, bats and pumpkins for Halloween. Also available are gin bottles and sour gummies. Making your own gummy candies by itself is a fun activity for children of all ages …and their parents. But even grown-ups can have their fun, by making creative dessert decorations or party gummy with a little shot of alcohol. Here are 5 ideas to use the kits in alternative ways: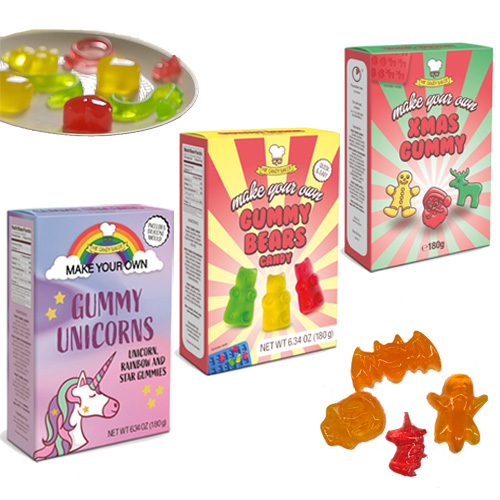 More than one shape:Buy any silicone mold shape of your choice and use the Make Your Own Gummy Bear Refill mix as the base. You can find online a lot of grown-up ice cube trays made from silicone with very unique shapes. The mix performs well in molds of all sizes.
Mix and match flavors/colors: All kits come with three base flavors and colors. Green (apple), yellow (lemon), and red strawberries). Pour half of one mix and half of another mix into ¼ cup of hot water, stir and pour into the mold. You'll get shades of purple, orange and other color tones
Use as culinary decorations: If you like it hot, add some chili pepper to the mix before heating. Or sparkling blue sugars sprinkles. Then add the colorful gummy candy shape of your choice to a dessert, muffins, main meals or appetizers. Let your culinary creativity run wild.
Make gummy bear shots (for adults over 21 years): Dissolve the powder of 1 bag in an 1/8 of a cup of hot water and add an 1/8 cup vodka, gin or tequila to the syrup once it cooled down a bit. You 'll get a nice taste and a little "kick" from eating the gummies.
Make weed shot (for adults over 21 years and where permitted): Add 5-8 mg of CBD or THC oil to the gummy syrup after taking the syrup off the heat. Don't worry about dilution, the gummies will still chewy, flavorful step up from "glibber-y" Jell-O shots.
Make medicine go down. Add bitter-tasting vitamin or protein powder to the mix before dissolving it. A little gummy candy might make the medicine go down
What's the German connection:Candy maker Hans Riegel invented gummy candies in the 1920. Toy teddy bears from another German manufacturer, Steiff, had just gained widespread popularity and became possibly the inspiration for the gummy bear. Hans learned his trade with an apprenticeship in candy boiling and set up his first manufacturing facility in Bonn, a small town situated along the Rhine River (which became later the first capital of West Germany). He incorporated his company with the initials of his name and the city: HaRiBo. Hans' original formula contained sugar, gelatin, fruit syrup and a bit of bee wax to make the bears chewy, fruity and delicious. His son also called Hans transformed the company into a global company. But Germany remains gummy bear land. You can find specialized gummy candy shops all over Germany, with names such Baerenland, BaerenTreff or Bears & Friends